So, back to that Jeep thing. On my drive to Milwaukee for the UPAF Ride for the Arts, the dash started dinging and lit up saying "check gauges." I looked at all the gauges and noticed that the temperature gauge was all the way to the right, indicating as hot as it can be. I pulled over at the next exit that I could and pulled into a parking lot in an office park. As soon as I stopped the car smoke came billowing out of the hood area. I got out of the Jeep and looked down. Green fluid was flowing out. Lots of it. My parents were already at my brother's house when I called up there and so my dad and my brother agreed to come down. I checked Google Maps on my phone and saw that there was an auto parts store nearby. I called them and they were open til 10 p.m. My hope was that my dad would come down, realize it was a hose or something easy, go to the parts store and fix it and we'd be on our way.
So, I camped out in the parking lot of this building.
And waited for my dad and my brother to drive down from Milwaukee. I realized that I wasn't even out of the city of Chicago! I was at Cicero and Peterson, quite a ways north and west in the city, but still, in the city. So, I realized it would take them a while to come down. Luckily, I was not alone. I had this to keep me company:
I was bringing these Half Acre beers for my dad and my brother to try. They were still ice-cold and it was in the high 70s that evening, so I cracked one open and waited.
Then after a while I oriented myself using the web browser and maps on my phone. I realized I was right next to a Whole Foods, so I walked over to the store and killed some time there.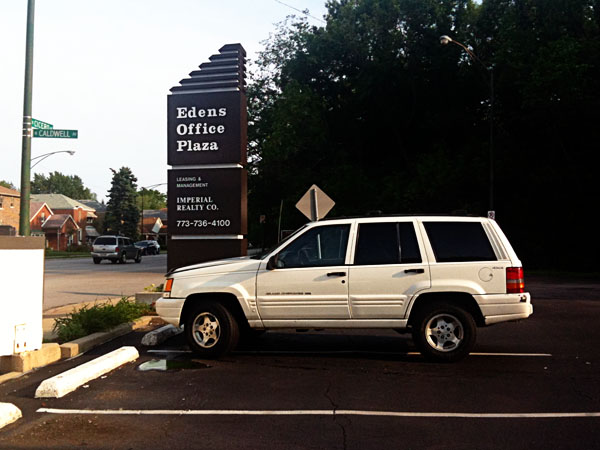 When my dad and brother arrived they took a look at the car. We realized that the leak was not in a hose, but was actually a leak from the radiator. I needed a tow. Well, little did we know that it would be SO HARD to get a tow. Some said they couldn't get to me for hours, some said they'd call me back and didn't, some said they were closed (!?), some didn't answer their phone, some said they didn't have a flatbed tow truck, which a few told me I needed. I was basically just going down lists of tow companies on Yelp and Google just trying to get anyone to come out.
Finally, I called a guy who said he didn't have a flatbed but knew someone who did. I was rolling my eyes at this. I'd heard it before that night and it didn't pan out, but when he gave me the number I called it and a guy said they could come out within 20 minutes and he actually did. I got my tow! For future reference, this was S&M Towing. They were great to work with did what they said, charged what they estimated, right to the dollar. Nothing shady. Also for future reference, the tow was $85 to hook up the car and $3.50 (I think) per mile after that. It came to about $103. Also, while we were waiting for the tow truck to arrive, I ran into that Whole Foods and bought us all slices of pizza and drinks. It was getting late, I'd been sitting in a hot parking lot forever, and we needed to eat.
My dad rode in the tow truck and chatted it up with the driver. My brother and I followed in my brother's truck. We towed the Jeep to our regular service station, Nal's. Dallas's uncles are good friends with the owner, Al. Dallas has golfed with him before and stuff, but I've never met him. I should mention I also spent about a half hour or more calling all of Dallas's uncles and Dallas, who was in Las Vegas, trying to get Al's number and find out if I could tow to his shop and leave it. By then the shop was closed so I couldn't ask them. Anyway, long story short, no one was answering their phone on a Saturday night. We ended up leaving the Jeep on a residential street just south of the shop, where there was no parking restrictions.
After leaving the Jeep, my dad and brother and I drove up to my brother's house. We pulled in at about 11 p.m., about 5 hours later than I'd planned to arrive. By the time we went to bed it was almost midnight. So, yeh. Late night. And we had to get up at 6 a.m. to get ready for the bike ride! But it all worked out..
When Dallas got back from Las Vegas he brought the keys up to the shop and worked everything out with them. The repairs will end up costing a lot more than I'd have liked – about $600. Stinks! But hopefully nothing will go wrong again and we can stretch out the life of this car. It's old, but still generally runs good. And $600 is less than a new car. If the Jeep keeps acting up, though, we may have to think about doing a trade in.