Entries Tagged as 'west loop'
Always liked the look of this place.
Tags:cassidy tire·Chicago·west loop
February 1st, 2012 · 4 Comments
Dallas and I have been wanting to check out Girl and the Goat pretty much since it opened in the summer of 2010. If you haven't heard of the restaurant, maybe you've heard of the chef/owner, Stephanie Izard, who is famous for winning the fourth season of Top Chef. From what we'd heard, Girl and the Goat is just slammed, like every single night, and is hard to get a reservation there. Every time we tried to go on Open Table and pick a date, it was never available. So, finally I just went on Open Table and figured out how far out you could reserve (three months). I picked a random Tuesday night and when three months passed we went.

Cute goat!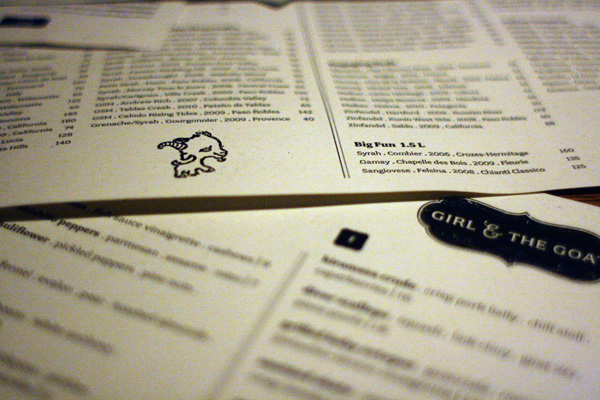 The goat appears all over the place. So cute.
This cute goat is all over their napkins, menus, cutting boards. I love it.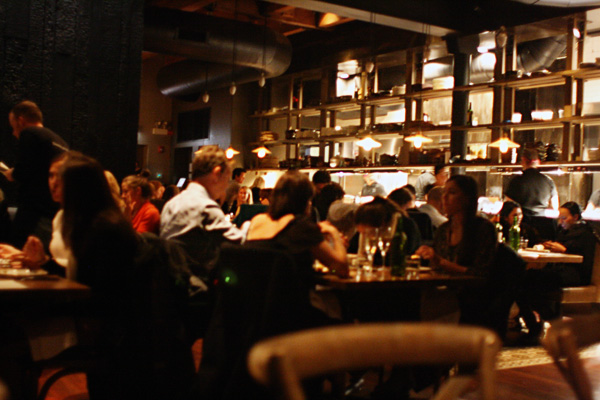 Dining room.
The dining room is really big. Like at least double what I was expecting. It's moving and lively and LOUD. At some points Dallas and I were literally yelling at each other across the table. Other than that, I really liked it.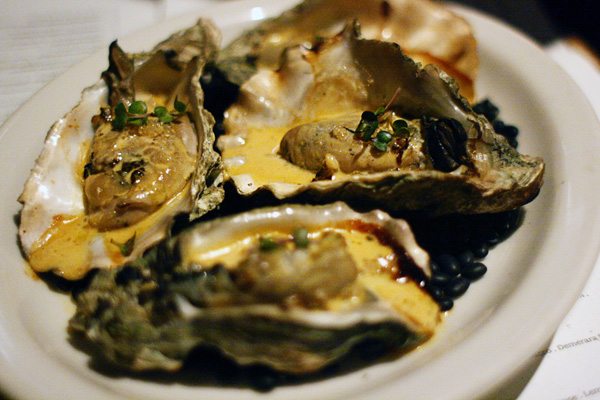 Rainier oysters special
The menu is divided into into sections for vegetables, seafood and meat. We tried to order off each of these sections, although you'll see that our vegetable selection was actually a mushroom! Our server told us that the food comes out in smallish plates for sharing and she recommended that we order about two plates per person, not including the bread and oyster appetizer. We couldn't settle on four so we did five. We started off with an oyster special. I don't know what was in these, because it was the special of the day and I can't look it up now, but they were SO delicious! And huge!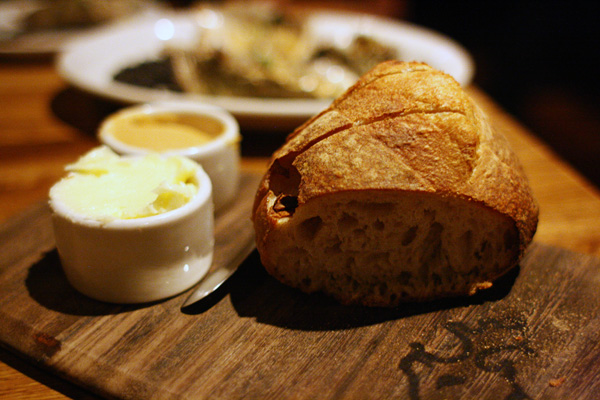 Bread with housemade butter and beer cheese.
Someone had told us ahead of time "don't fill up on bread!," which seemed like "duh!" but Girl and the Goat has 3 different breads every day that you can order. We got the one with the beer cheese spread. We liked it, but did comment that it's not Rev's beer cheese (which we are so in love with we'd bathe in it).

pan fried duck tongues . shiitake mushroom . pickled watermelon rind . chili oil . coriander
To try something really different, we ordered the duck tongues. When they came out, it was more like salad-ish. Very light, with pieces of fried strips, which were the tongues. To me, they didn't really taste like much, they tasted like "fried," but Dallas couldn't really get over the fact that they were little duck tongues. The day after we went to Girl and the Goat I said something about my stomach being upset and he said it was duck tongue karma!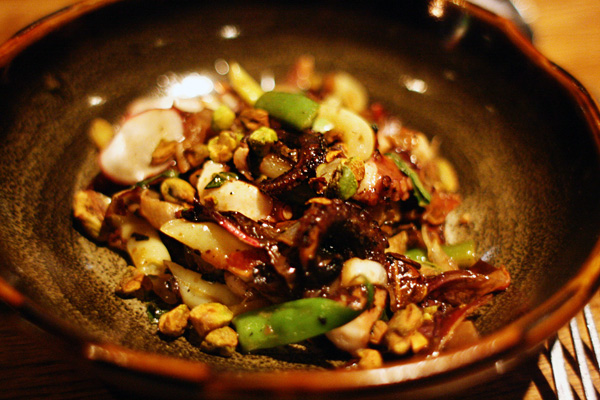 grilled baby octopus . guanciale . wax beans . romano beans . radish . pistachio-lemon vinaigrette
Grilled octopus. Good. Light. It reminded me of the octopus we had at El Ideas except I remember the octopus at El being even more tender.

Hen of the woods mushroom ragout. sweet potato agnolotti . shroom creme fraiche . capers
The mushroom ragout is something that really stood out to me when we ordered. I don't know why, but it was calling my name! Mushrooms, potatoes, creme fraiche, capers! What's not to love? Well, this was the only dish of the night that I really did not like. There was some sauce that was really sweet and just overpowered everything. Dallas ate most of this dish.

smoked goat rilette empanadas . tuna aioli . celery . tomato salad
The empanada was good, but to be honest, we're so spoiled by living next to El Nandu. We love their empanadas. If anyone is an empanada expert, let me ask this: Is there such thing as an Argentinean-style empanada? We love El Nandu's style of making empanadas and are wondering if it's the restaurant's way of doing things or if that's Argentinean style. They're so light there. Not heavy or oily at all.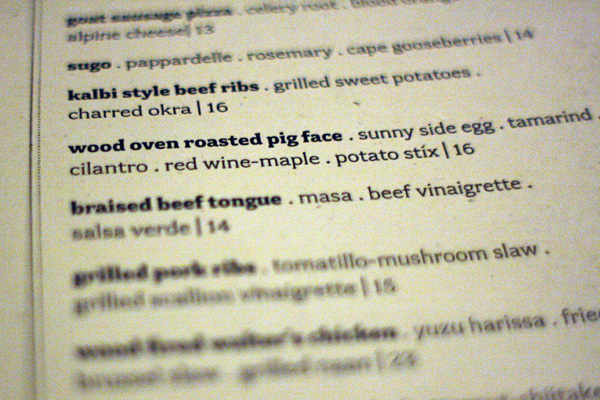 Everyone told us to get the pig face.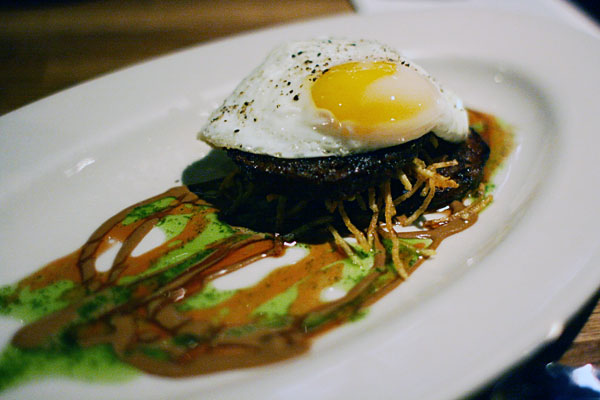 wood oven roasted pig face . sunny side egg . tamarind . cilantro . potato stix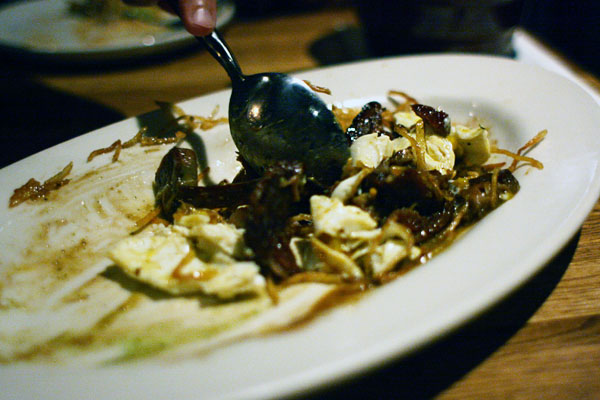 Stir it up!
Everyone told us ahead of time to get the pig face. I actually remember when the restaurant opened and I looked at the menu online. Pig face. No thanks!!! I was imagining an actual face on a plate. What you really get is some patties made from pig… cheeks? jowl? Not sure. I think there's just some novelty in actually saying and ordering "pig face." Or server told us to stir it all up on the serving plate then dig in, so we did. I thought it was good. The patties are crisp on the outside and contrast well with the egg.

Dessert menu

Blue cheese from Westby, WI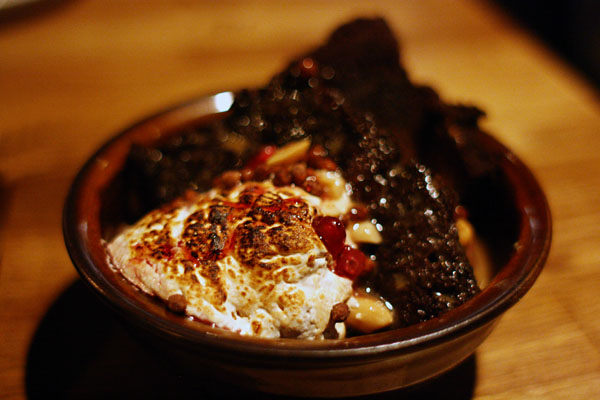 chocolate-thai chili gelato . chocolate cake. peanut fluff . pomegranate . left hand milk stout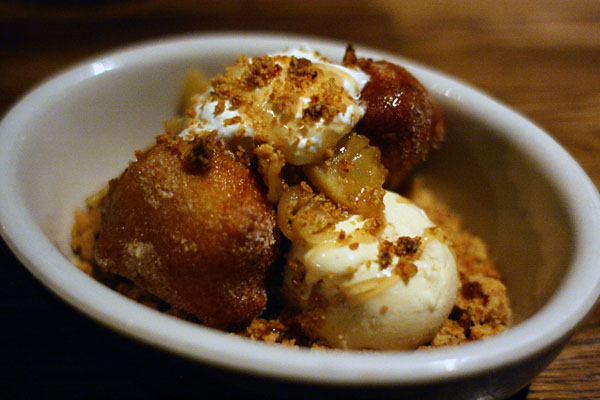 butternut malasadas . bourbon gelato . brown butter apples . hook's cheddar
I was getting pretty full at this point, but the desserts looked so good, we had to give them a try. Dallas saw blue cheese on the dessert menu and had to get that first. It was pretty great. Then, in a complete roll reversal, Dallas went for the chocolate dessert and I got the fruity malasada. As Dallas took his first bite of gelato and dessert, his favorite Tears for Fears song came on and I think his eyes rolled back in his head a little. The dessert was that good. Or maybe it was the music! No really, this chocolate dessert was so delicious. The peanut fluff was more like peanut butter crispies and the pomegranate gave a nice freshness to the dish. The chocolate cake was so moist! As for my dessert, it was delicious as well. Probably the best malasadas I've had in Chicago. They were a bit more dense than those we get in Hawaii, but this might also be because they had cheddar cheese in the centers! Hats off to the pastry chef. The desserts were one of our favorite parts of our entire meal.
The Girl and the Goat was nominated for a James Beard award in 2011 for best new restaurant. Chef Stephanie Izard is in the Chicago news constantly, it seems. I thought the food was good. We definitely enjoyed our dinner and were glad we went. I just think it's one of those things where there's so much hype and build up (and a 3 month wait) that you're expecting to be going to the moon and back! I would definitely go back and recommend it to others, but try to tune out all this hype!
Tags:Chicago·dallas·el ideas·el nandu·empanada·girl and the goat·open table·revolution brewing·stephanie izard·west loop
No thanks! Clean your own toilet!