Entries Tagged as 'the rocking horse'
Goat CHEESE Balls, that is..
On Sunday morning I met up with Jess for a quick run through the Logan Square Farmers Market. I was having problems finding a parking spot for my bike, when I ran into my coworker Jeff and his wife Khloe. They had a booth and let me lock my bike there, so problem solved! At the Farmers Market I knew what I needed: tomatoes, lettuce and berries, so I pretty much got it and left. I was also keeping my eye out for Rare Bird Preserves, but I don't think they had a stand this week. Oh well. Maybe next week. I purchased their rhubarb/strawberry preserves at the market a few weeks ago and we just cracked them open. So good!
I rode by The Rocking Horse, around the corner from the market, and noticed they now have a pole sticking out of the building, and the pole basically is up the arse of a rocking horse. Do not like! You're telling me the huge sign that says "The Rocking Horse" was not enough? They literally had to attach a big rocking horse to the building?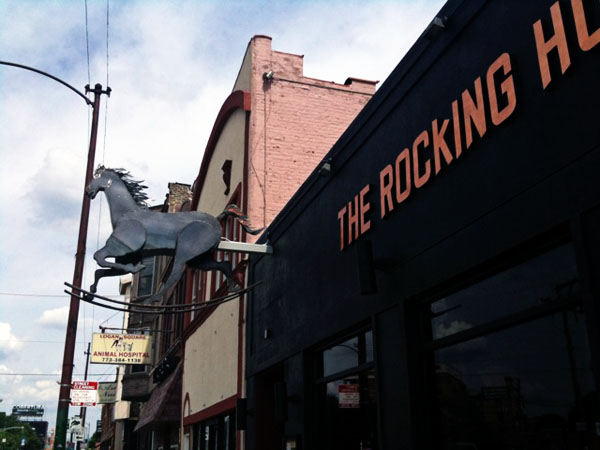 After the farmers market I headed to Roscoe Village. Jen and Quinn and I went to a few houses on the Roscoe Village Garden Walk and went to Roscoe Village Burger Fest, which was just a few blocks from their house on Belmont between Damen and Leavitt.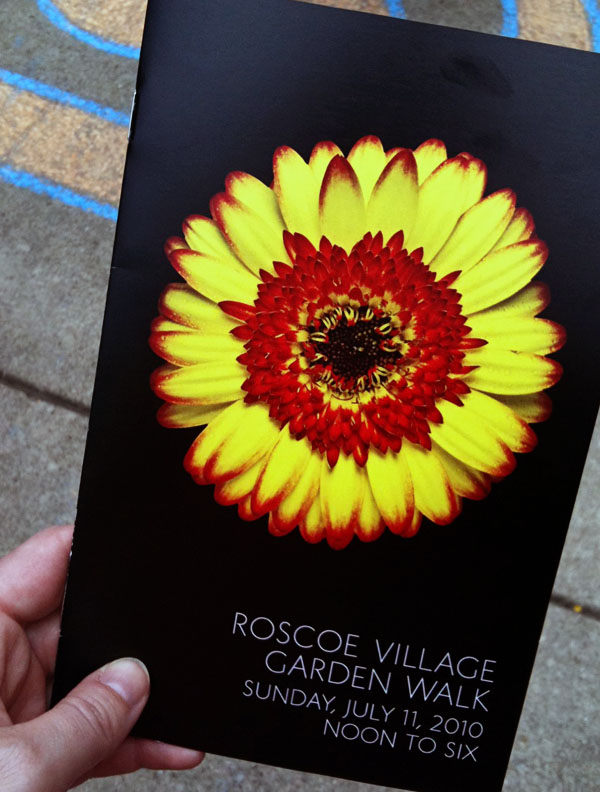 Burger Fest had a large kids section that we took Quinn to. Unicoi Art Studio, a children's art school located on Belmont and Hoyne, had a booth where kids could do free art projects. Quinn made a beard & mustache on a stick!
Quinn also went on a few inflatable bouncy things.. a pirate ship and a kind of maze one with a climbing wall and slide at the end. They probably had like 6 of these structures set up, but they were charging $3 to do on each one, which is a total rip off. There were a bunch of kids having melt downs because they wanted to go on every thing and you had to buy a $3 ticket for each one, which a lot of parents, including Jen, were not going to do!
After this we decided to get lunch. We tried sliders from The Bad Apple and Mrs. Murphy & Sons Irish Bistro. The Bad Apple definitely had the better burger, but Mrs. Murphy's won us over with Guinness ice cream! Since we were having lunch by the ponies, Quinn wanted to take a ride after lunch. I always feel a bit sorry for ponies that just walk in circles all day. I don't think they have a good life, but they sure do make kids happy.
I walked around the circle with Quinn. We talked about which pony was his favorite and how soft the pony's hair is. Quinn asked "What is that smell?" (poop) and "Why did we stop?" (pony pooped). We talked about what a Buzz Lightyear obsessed boy might name a pony (Buzz Ponyyear or Pony Lightyear or Buzz Lightpony). I tried to avoid questions like "what is that down there?!?!" (while pointed between the boy pony's legs).
On the way home we stopped off at a few houses to check out their gardens. When we got back to Jen and Chad's there were 10 or 12 friends gathered in the outside living room to watch the soccer game. Jen and Chad's house was part of the Roscoe Village Garden Walk so all afternoon they had visitors coming in to look at the yard and then asking what the score of the game was! Spain won, which I guess is good because Brian had put money on them for Dallas when he is in Vegas so he should be getting some kind of pay out. Later on we went back to the fest til it rained, then played cards in Jen and Chad's garage til it stopped raining, and then went back to the fest to see the Gin Blossoms until it thunderstormed and then we left, thoroughly soaked.
Tags:chad·Chicago·farmers market·gin blossoms·guinness·hamburger·horse·jeff·jen·jessica·khloe·logan square·mrs. murphy & sons irish bistro·Music·mustache·quinn·rare bird preserves·roscoe village·roscoe village burger fest·roscoe village garden walk·soccer·the bad apple·the rocking horse·unicoi art studio

Tour de Fat

Killian & Jill

Molly & Liz

Stephanie & Dallas

Stephanie & Dallas

Front: Killian, Dallas Back: Lisa, Jess, Brian, Stephanie, Andrea

Stephanie & Rachelle

Crazy Tall Bike

Bike Powered Bubbler

Sign at the crazy bike corral entrance.

Rachelle

Stephanie

Stephanie & Rachelle

Stephanie & Rachelle

Rachelle
After the Tour de Fat bike parade, Jen and Quinn had to head out but the rest of us went over to Palmer Square for the Tour de Fat festival. Last year we had just a few people with us at Tour de Fat, but this year we had something like 10, plus we ran into our condo neighbors and hung out with them. Last year Brian, Dallas and Killian's friend from college, drove in from out of town for the event and has so much fun that this year he brought his wife with him.
There were a few new things at Tour de Fat this year, but generally things were the same as last year. Same crazy bikes, some of the same music and performance acts. Dallas wished they had switched it up a little, but I still had a fun time. It had stormed in the night before the fest so the grounds were pretty muddy. And while it didn't rain the day of, it was so hot and humid. My hair was wet with sweat. Kind of gross, but still a good time.
After a while some of our friends headed over to Dunlay's to check in on World Cup soccer. Steph and I walked around a little bit then met them at Dunlay's. We sat outside, though, with all the other people who didn't care about soccer. Then a bit later on Jess (my friend, not my niece!), Dallas, Steph and I had dinner at Rocking Horse.
Tags:andrea·bike·brian·Chicago·dallas·dunlays on the square·jen·jessica·jill·killian·lisa·liz·logan square·malachy·molly·new belgium brewing company·palmer square·quinn·stephanie·the rocking horse·tour de fat·world cup