Bright and early (and still dark!) Monday morning we headed to drop off the Jetta rental car and to the Honolulu airport. We had to take an alternate route because of the Great Aloha Run beginning early that day.
On Kauai we got our new rental, a Dodge Nitro SUV that we were sharing with Dallas's brother Jordan and his girlfriend Liz.
From there we went right to our appointment to get our marriage license. Since it was a goverment holiday, Presidents' Day, we went to a marriage license agent instead of the government office in Lihue. At first I was leary about this, and you'll see why, but in hindsight I realize it's a much better story than if we'd gone to a plain, old, boring government office!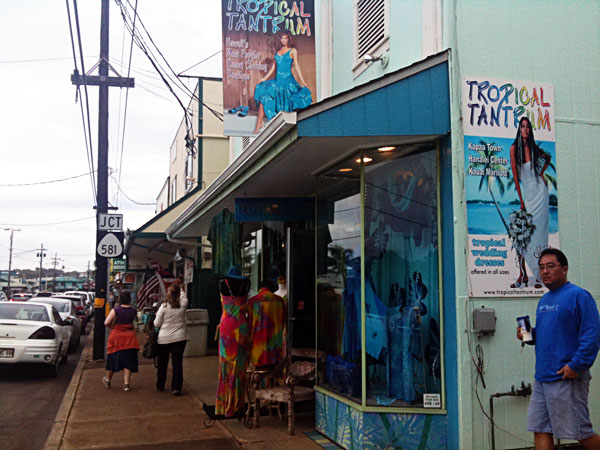 Pono Market is in this strip of stores in Kapa'a

Pono Market
Our appointment was in Kapa'a at Pono Market. When you put the address into Google Maps, it's off.. so we drove past it a few times before we spotted the small store. It's located in a quaint strip of small stores and sort of just blends in if you don't know what you're looking for. Once we found it, though, we were able to get a parking spot on the street right outside the store.
We walked inside and Pono Market is like a fish market. One side of the store had a long counter where you can order plate lunches and local food. On the other side had a cooler with beverages and a small counter to order coffee or ice cream. Then there was a table and a few chairs and a bunch of older local guys talking story. Um. Ok.
So, I walk up to the counter, thinking I must be a fool to think this is right, and stammer out that we're there for our marriage license. The guy at the counter immediately says "Yes, you are in the right place!" and points us over to the smaller counter to his brother Ken. The old guys get up, we're seated at a small table covered in a blue cloth right next to the front windows (see this photo I found online of Ken and another couple getting their marriage license).

Ken
Dallas and I filled out a PDF form at home and printed it, so I got it out and Ken reviewed it. He had us double, triple check everything and we had to make a few edits. Also, under "Race" there was no doubt that I should put "Caucasian" but for Dallas, it could be a few things. He chose to put in "Hawaiian" but Ken made him change it to "Hawaiian-Korean," since his mom was born in South Korea, as stated on the paperwork. He could have put "Hawaiian-Japanese-Korean" if he wanted to since his grandma is Japanese, but we left it at "Hawaiian-Korean."
Ken took our corrections up to his office, which is on the second floor of Pono Market and accessed by a spiral staircase in the front corner of the market. Who ever heard of a spiral staircase in a small fish market!? Ha. He needed to retype the whole application with all of the updated information.
While he was away we ordered plate lunches, but the guys at the counter said we couldn't have them until we finished our business with Ken. Something about getting the forms messy or something. Since we had time, I snuck out to use the restroom, which was located down the street near Ono Family Restaurant.

We asked Ken to take a photo with my iPhone too. This is what will be on the "wedding wall."
When he came back, he told us "Everyone on the East Side already knows you're getting married because this is where people sit to get marriage licenses and now people have been passing by the window looking at you this whole time," or something along those lines. Ahh.. the coconut wireless! He had us double and triple check everything again and then we had to sign the form. After that we were done. Ken gave us a bumper sticker that said "I got my marriage license at Pono Market" and took our photo for their "wedding wall." If you stop in, look for us!
We got our plate lunches (lau lau for me and kalua pig for Dallas) and went outside to a small table they had on the sidewalk. We also got Spam musubi. Believe it or not, this was my first Spam musubi, but not the last on this trip! The plate lunches were delicious and I liked the Spam musubi, too. I can see how they are a kind of grab-and-go snack or light lunch on the islands.

Lau Lau Plate Lunch with white rice, poke and mac salad.
SO, Pono Market. One stop shopping. Marriage license, plate lunch and Spam musubi, all in one place!
Sidenote: Check out this article about Pono Market that was in The Garden Island newspaper.
– – –
A while later we went to meet with Marlene Mira, our wedding planner, and Julie Wirtz, our officiant at our venue, Joe's on the Green. I'd corresponded with everyone over email and phone, but this was our first time meeting in person. Everything went great. We reviewed the plan, where things would happen, when, etc. Dallas and I passed off supplies to Marlene and that was about it. These ladies had it down. My biggest concern was 1) a box I shipped weeks before that never showed up and 2) the weather and 3) all the welts on my legs.
It was pouring when we all met. And had been raining on Kauai for days while we were on Oahu. Both Marlene and Julie swore that the rain was stopping and the weather would be fine. They were so positive about it, we never even talked about a Plan B, a Rain Plan. Turns out they were right. The rest of the week the weather was awesome. It rained sometimes, but mostly at night. The days were gorgeous. And the box that the USPS lost? It miraculously showed up 2 days before the wedding! As for my legs, the sores did diminish, but you could still see them. We did a quick coating of makeup and honestly? I didn't really care that much. I had one short minute-long cry about my legs and then I just let it go. As Julie said, it could be worse. They could be on my face! And there was nothing I could do about it. So.. let it go.
I'm going to write a bit more on Julie and Marlene in separate posts, but for now we were just happy to have all of our wedding-related meetings done on our first day on Kauai. So for the rest of the week, up until the wedding, we could just enjoy or vacation.