Billy & Dallas

Dallas
Two Hawaiian guys, slippers, Hawaiian t-shirts, hibachi, kalbi. Yep, looks like a Hawaiian-themed Thanksgiving!

Hawaiian-Themed Thanksgiving Dinner
For the holiday we went to visit Billy and Ging Ging in the East Bay. We'd originally planned on skipping all the traditional Thanksgiving food and just ordering Hawaiian platters from L&L Hawaiian Barbecue, but whattaya know? L&L is closed on Thanksgiving. So we ended up making Thanksgiving dinner, but still tried for Hawaiian style instead of the American classics.

Hawaiian-Themed Thanksgiving Dinner
Dallas and Billy took care of the meats: Kalbi Korean short ribs and chicken katsu. Ging and I made the rest. Mostly Ging, ok at least under her supervision. We made a chinese salad with ramen crunchies, a warmed spinach/cranberry/pecan salad, tofu, mac salad (with and without wahoo/ono), mashed sweet potato, and fresh pineapple with li hing powder. For dessert we made haupia and a pumpkin mochi.

Damien & Matt
Matt and Amy joined us for dinner. Made made lemon meringue pie and they brought a couple bottles of wine as well.

Damien & Billy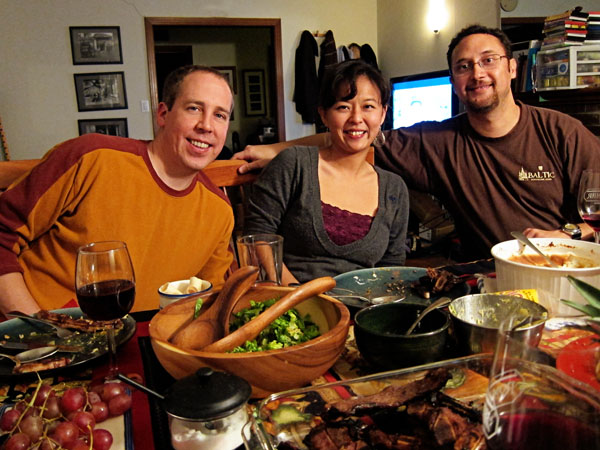 Matt, Amy, Billy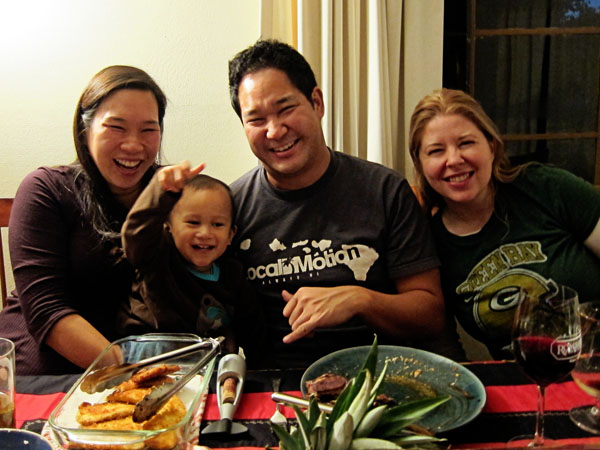 Ging Ging, Damien, Dallas, Rachelle
Amy wasn't sure what Billy and Ging meant when they said we were having Hawaiian foods for Thanksgiving but when we told her the menu she told us she was looking forward to all of that more than turkey, stuffing and mashed potatoes!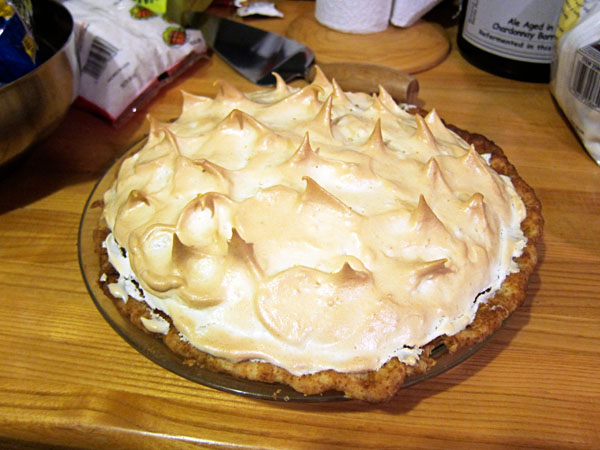 Matt's beautiful lemon meringue pie.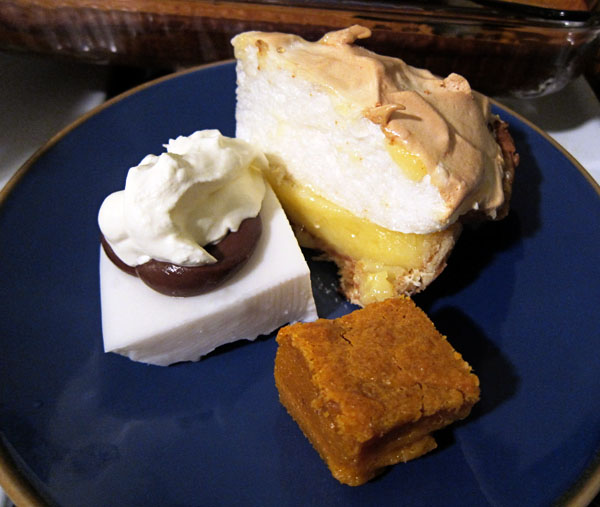 Lemon meringue pie, haupia, pumpkin mochi.
Ging and I prepared dessert plates for everyone. Each got a slice of Matt's lemon meringue pie, a piece of haupia topped with chocolate pudding and freshly-whipped cream (kind of like haupia pie with no crust), and a piece of pumpkin mochi. The mochi didn't really stand up to the sweetness of the pie or haupia, but when we ate it the next day on it's own it was much better. The lemon mirengue pie was so delicious. I ate it for breakfast the next day too! And the haupia reminded me of Hawaii. I made it the night before. It was simple with a mix that Ging had from Lihue.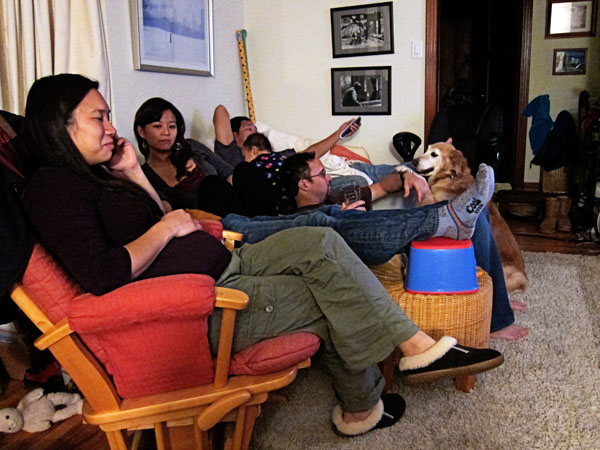 Ging (talking to her family & rubbing baby #2 due in April!), Matt, Amy, Billy, Damien, Dallas
After dinner and after Damien went to bed we watched a couple of movies: Super 8 and 50/50. I saw 50/50 in the theater and really liked it. I thought Super 8 was pretty good too.
I love turkey and stuffing and mashed potatoes and pecan pie, but this was a good alternative dinner and I was glad we did it! Also, remind us to tell you the story about how Billy and Ging don't have a TV but borrowed one (+Direct TV). And then Dallas and Billy had to configure it so we could watch the football games on Thanksgiving. Craziness!