Last week our family's cat Shorty passed away after living a long, long life. He was almost 18 years old, which is older than both of my nieces! I say he's my family's cat because he started out with me, but over the years lived with my parents for a while before settling in with my brother's family for the last 10+ years. He had a long life and lots of love and will be missed. Even though he has not been with me for a long time and my allergies were severe enough that I didn't cuddle him much while visiting my brother, I thought of him often. We went through a lot, me and that cat!
In the beginning, I decided to get a cat when I moved into the first apartment where I lived all by myself in Appleton, WI. I think I was 21 or 22 years old and it was kind of a dumb thing to do, since I was working a full time job (programmer), a part time job (retail) and going to college at night. I quickly realized I was spending no time with Shorty and I didn't want him to be lonely, so I got a sister for him. For some reason I can't remember, I named her ShellB, after myself!


This blonde haired little girl pictured with Shorty will be attending college in a few months!
When people asked me what my cat was called I'd say "Shorty" and then they'd ask me if he was short. I'd say "yeh, compared to me, he's short." The truth is, Shorty was almost a year old when I got him. I remember going to this lady's house in the country. Her son had gotten Shorty as a kitten and wasn't taking care of him, so she wanted him to go to a good home. Her son named him Shorty after the Tupac Shakur song "Shorty Wanna Be a Thug." This was on 2Pac's album All Eyez on Me, which was released in February of 1996. The first vet records that my family has for Shorty were from June 1996. I think they were papers that the lady gave me when she gave me shorty, so this all makes sense. Anyway, Shorty knew his name, so I didn't change it. Besides, the name Shorty is badass.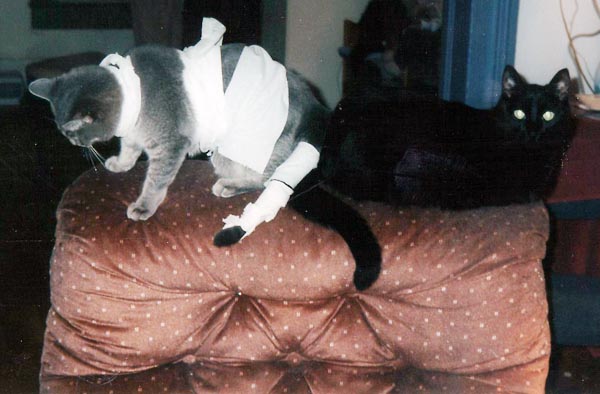 Eventually I'd had it with my part time job. I used the money to buy a car and then quit. And then I had a bit more time with Shorty and ShellB. One Halloween I decided the cats should dress up. ShellB got wrapped in toilet paper to be a mummy. Shorty was already a black cat, so he lucked out.
I moved to a new apartment. They moved with me. My cousin Kelly and I visited San Diego and I decided I was in love with it. I started thinking about a big move. I ended up getting a job in San Diego. In January of 2000, we loaded up a U-Haul truck and my cousin Sabrina and I drove to the west coast. We towed my Jeep on the back and the cats were in a carrier cage in the cab of the truck between us while we switched off driving. The vet gave me some sedatives, but ShellB still cried the whole way!
When I lived in Wisconsin, ShellB would love it if I left my apartment door open so she could explore the apartment's common area. Shorty never left the apartment, even with the door open. For some reason they switched roles in San Diego. Shorty loved to sit out in the ferns and birds of paradise in my apartment's courtyard. ShellB would sit just at the threshold of the door and look out, but rarely leave.
Shorty was always the lovey dovey. When you held him he would wrap his arms around your neck and cuddle. And drool, for some reason. He was warm and cozy. ShellB was a little more snarly. She had more attitude and didn't like to be cuddled. But Shorty was my snuggler.
Shorty was not a dumb cat. He only dug in the plants if I was out two or more nights in a row. And he also liked to get my attention by pushing things off my desk as he looked right at me. I remember he would inch pens. I'd scold him and he'd push it more. And I'd scold him again and he'd push it off the edge. Of course, then I knew it was time for some snuggling.
And everyone could remember him drinking from an unwatched glass. I think he even broke a few of mine. And he wasn't above drinking Santa's milk!
I am really allergic to cats, I discovered. After getting two. We always had cats growing up and it was never an issue, but now I found myself waking up in the middle of the night, unable to breath. I went to see an asthma and allergy doctor and found out that I was having allergy-induced asthma attacks. I got an inhaler. The doctor told me to shut my bedroom door and not let the cats into the area where I slept, which was impossible to do, since I lived in the tiniest of studio apartments. It was also impossible to imagine giving my cats away, so I just suffered through. Shorty and ShellB were there for many of my big life events. Like when I bought my first Apple Macintosh computer.
In the late summer of 2001 I had the opportunity to transfer to my company's New York City headquarters. I jumped on it. I sold all of my things and packed the rest into one huge suitcase. My cousin Kelly was on vacation in Arizona so she and her.. boyfriend (?).. fiance (?).. I don't think they were married yet… Jeff, came over to San Diego and got Shorty and ShellB. They drove back to St. Louis, where they were living, and my dad and cousin Sabrina drove from Wisconsin to St. Louis to bring them back to live with the family in Wisconsin. 9/11 happened, but I still moved to New York two weeks later.
I eventually moved back to the midwest.. but the cats continued to stay with my family. Eventually ShellB ran off.. and then reappeared .. and then disappeared. But Shorty was with my brother's family for pretty much all of that time. He even got a kitty step brother, Bailey, and a doggy step brother, Milo.
So, even though Shorty and ShellB only lived with me for three years or so, we went through A LOT. And now both are gone, but those were some crazy years and I will never forget that they were there with me through it all!

***PSA: I've looked around a bit and I can't find any photos of Shorty and me together. If you have a pet, go take a photo with it TONIGHT or you will regret it later on.***