The first year we lived in Logan Square we missed the Milwaukee Avenue Arts Festival because we had conflicting plans. Last year I took my niece Jess through and it was alright, but not great. This year it has finally all come together. The fest seemed really improved and we were able to invite some friends over and make an evening of it. Here is what I liked:
| | |
| --- | --- |
| | |
Revolution Brewing sponsored the festival and all of the beer there was brewed by them. I drank only the Bottom Up Wit (Refreshing Belgian-style wheat beer spiced with coriander and orange peel. Made with organic malt and wheat.), but there was also the Rosa (Tart summer ale infused with 20 lbs of Hibiscus flowers and touch of orange peel. Elegantly refreshing and defiantly delicious.), Anti-Hero IPA (An American hop assault for all the ambivalent warriors who get the girl in the end. "Look, I ain't in this for your revolution, and I'm not in it for you, Princess.") and Coup d' Etat (Dry, spicy French-style saison dry hopped with German Select hops.).
In addition, sangria was provided by Lula, the popular Logan Square restaurant and wine was provided by Telegraph, Logan Square's brand new wine bar. I loved how all the drinks were sponsored by bars and restaurants that were only a block or two away. I don't think I've ever seen this at a Chicago festival before. I mean, the beer was made right there. Now, maybe next year we can get the food to be more local.
Another thing I liked was that we were on the square, which means grass and shade. Many times you go to a Chicago festival and there's nowhere to stand or sit except in the hot sun on the burning hot asphalt. At this festival we got our drinks and walked across the street to the shaded, grassy park. So much more comfortable.
Thirdly: Art. It was an art fest, afterall. Along Milwaukee Avenue there were curated art exhibits and pop-up galleries in empty storefronts and sponsoring establishments. There were also all kinds of different art activities that featured more than 200 artists in over 30 exhibits. The only exhibit I went to was located in the Logan Square Comfort Station, which was conveniently located directly behind the beer tent. The exhibit was Folding Time: Explorations of Surface Reality, a showing of mixed media paintings by Chicago artist Jason Brammer. Pretty interesting.
We spent all of our time at time nearby the main stage at Milwaukee and Kedzie and the music there was pretty good. We enjoyed a mostly all-girl band (only the drummer was a guy) called Hollows. There was also a stage at Milwaukee and Kimball and one closer to our condo, the Cole's stage at Milwaukee & Belden.
| | |
| --- | --- |
| I bought this hat for Dallas. Do you like it? | Jessica |
| Killian | Alden |
| Ed (and me!) | My friend, Bottom Up Wit |
Finally, and probably the best part, our awesome friends who came to the fest with us. In addition to the people above, we also saw Andy and Katie, who just got engaged about a week ago. And Dallas and I also talked to Jack for a while. Jack cuts our hair and his salon, Mops, was a fest sponsor.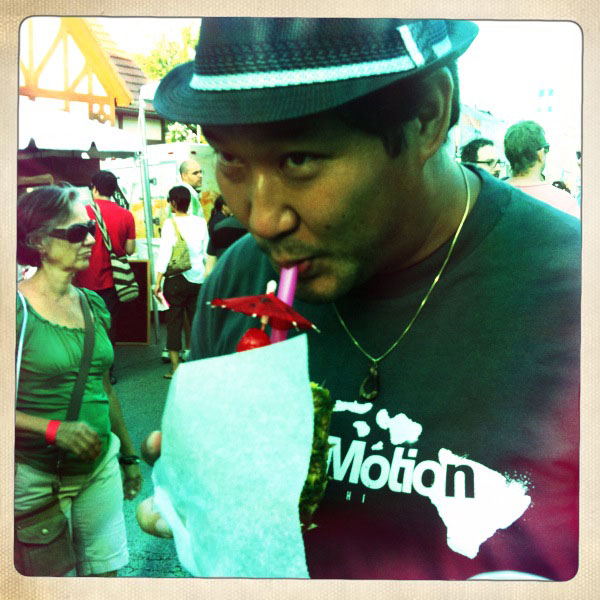 Alden and I were standing in line to get a taco when we saw Dallas purchase and drink a pina colada served in a pineapple. What the heck!? I have no idea what he was thinking since he is never one to order a fruity drink. Must have been the new hat I bought him!
We left shortly after and everyone came back to our house. We had been slow cooking pork all day while we were away. Dallas also made blue cheese coleslaw and I made a caprese couscous salad ahead of time, so we all feasted and sat out on our roof deck, where it was a perfect summer night.