Dallas's parents went out to breakfast and to buy even MORE baby formula. Makai stayed home with us and got another sink bath. Dallas had this leftover "local" sushi for breakfast. It's made with egg and canned tuna.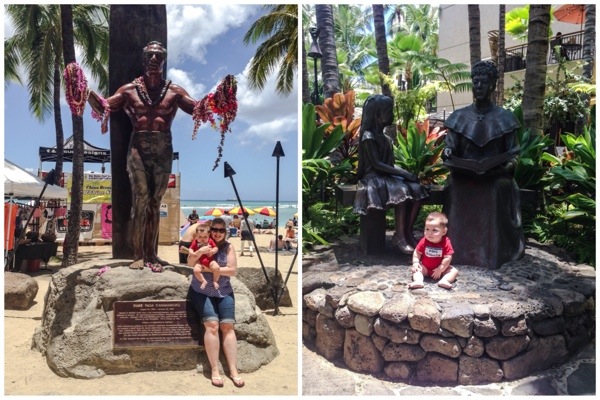 After breakfast, me and Makai and Kathy went on a walk around Waikiki. SO many people stopped us to say how cute Makai is or to talk about his big cheeks! We took a photo by the Duke Kahanamoku, the famous swimmer and surfer, and by Princess Bernice Pauahi Bishop, who set up Kamehameha Schools. Her husband also set up the Bishop Museum in her memory. (We visited in 2005.
After our walk we went back to the condo to get ready. Dallas's parents left quite a while before us to go to Kamehameha Schools because Dallas's dad had to get his class photo earlier. Each class has a time they have to be there to get the class photo taken. It was Dallas's dad's 50 year reunion and Dallas's 20th.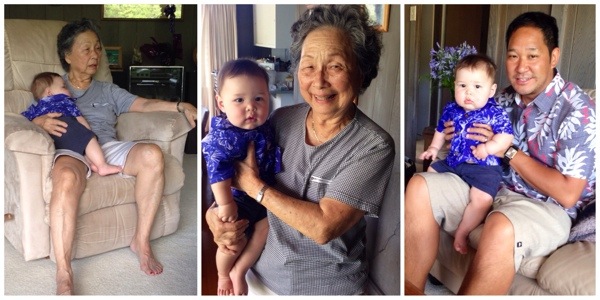 Since we had extra time, we went to visit Aunty Mary. She is actually Dallas's great aunt, his grandma's sister. Dallas's grandma passed away a couple years ago and Aunty Mary is the only sibling left. I was impressed with her independence, health and sharp wit! I hope we can all stay this healthy as we get older! Makai was sleeping when we arrived at her house and stayed sleeping after we were there a while. When he woke up he snuggled up to Aunty in her lap for quite a while. So cute!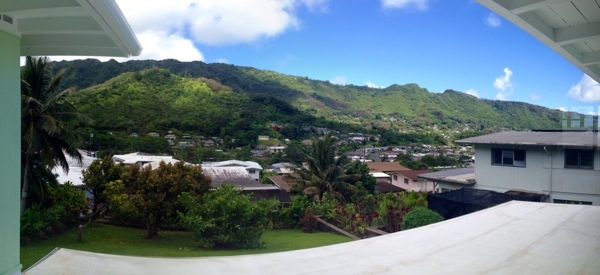 The view from Aunty Mary's house in Manoa Valley. Aunty Mary lives on her own mostly. He husband passed away recently and her granddaughter lives in an apartment downstairs, but she is very self sufficient.
Next we headed to Kamehameha Schools for the alumni luau. We heard there were 1500 people there and that for every one person in attendance there were three more people who couldn't get tickets! The youngest alumni there graduated five years ago. The oldest was a 98-year-old woman who was from the class of 30-something.
Dallas dropped us off and went to park the car and then get his class photo taken. Makai and I browsed around this area where they had some people selling things. I bought a really nice necklace and earrings made from sea glass and sea shells. I tried to rock Makai to sleep during the opening band's performance but people kept coming up to us to see Makai and talk to him!
There were so many pupus like pickled Maui onion, limu salad, boiled peanuts, poke, edamame, and my favorite, smoked meat. I really like the onions too and ended up buying some at the supermarket later on! For our actual meal, we had kalua pig, chicken long rice, squid luau, lomi salmon, poke, poi, and rice. I didn't want my poi, so Makai ate it all. And a few other people saved theirs so that he could eat it for the next few days!
For entertainment there were a lot of bands and comedians. Each class was called out and they had to do a dance at their tables. Class of '94 won, I think! (I'm not allowed to post any photos or video of that, but just know they do exist!). Ekolu is a pretty famous Hawaiian band that played. And Touch of Gold played a lot of crowd favorites and oldies. Dallas's mom took Makai to the dance floor to dance with him, but the swaying made him want to fall asleep. Even though there was a live band a few feet away!
At around 8 p.m., Dallas's parents took Makai back to the condo to eat and go to bed. We stuck around and the party continued until 9:30, way past when it was supposed to. No one could remember an alumni luau where so many people were dancing! And they wouldn't stop! Dallas's classmate was doing the sound and lighting and kept playing all the Class of '94 favorite songs. While others were trying to break down tables and clean up, Class of '94 just kept dancing!
Oh, and before I forget, we also got these photos taken in the "photo booth."
After the party we went back to the dorms again. Someone had a couple of ukuleles and a guitar and there was a lot of playing and singing. So many of Dallas's classmates are in Hawaiian bands that have been nominated for Na Hoku awards like Kekoa in Holunape and Kalehua in Hi'ikua. We stayed out late, dropped Hoku off in Diamond Head, made a late-night run to Jack in the Box, and got home around 2:30 a.m. What a fun day/night!