Entries Tagged as 'blue cross blue shield tower'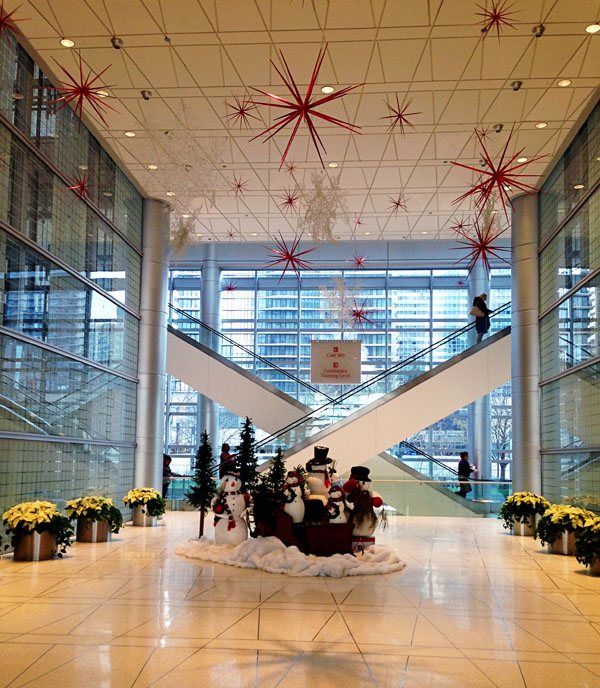 Some cute winter decorations in our lobby.
Tags:blue cross blue shield tower·Chicago·isobar·lakeshore east·roundarch·roundarch isobar
BlueCross BlueShield of Illinois just announced a 5-year sponsorship of the Divvy Bike Sharing Program so the mayor is coming to do a big press announcement in our building today. I'm assuming that's what these balloons in the lobby are for! If I didn't have a meeting planned, maybe I'd wander down to watch.
Tags:blue cross blue shield tower·Chicago·divvy·divvy bikes·isobar·lakeshore east·rahm emanuel
I sadly only have about a week or so left of maternity leave (
) so I decided to take Makai in to the office to meet all of my coworkers. I parked in the Millennium Park garage, which I was a little leery about, but actually wasn't that hard. At our building's security desk Makai had to get an official visitor's pass! Also, while we were in the lobby we got to visit with Kate for a minute before heading upstairs. Kate doesn't work for Isobar, but she works in the building so that was nice that she could meet up with us!
In the office Makai was on his best behavior. As laid back as ever while he got passed around from person to person, with all of the ladies (and some of the men!) squealing in his face.
I planned our visit over the lunch hour so it would not be too disruptive, but we actually ended up staying for almost three hours! Makai only got fussy one time when he was hungry, but otherwise, was so good!
To be honest it was kind of nice to go back to the office for a short, unofficial visit before I go back for real. Maybe it won't be so weird when I arrive back for my first day now.
Tags:becky·blue cross blue shield tower·Chicago·isobar·kate·lakeshore east·makai·megan·millennium park garage·osmaan·ranee·roundarch·roundarch isobar·ryan