I finally got a chance to try out Pequod's Pizza over the weekend. Richard, Amanda, and Jess came down to collect Steph and we all went to dinner. Dallas had been here once for a birthday, but I missed it. We made reservations for 4:30 p.m. on Sunday. I was trying to avoid a dinner rush, because I heard it can get packed, and it was not crowded at all. We probably didn't need the reservation. When we were seated, Dallas suggested we figure out or order quickly because the pizzas take a long time to cook (40 minutes). We ordered the Pequod Salad and two medium deep dish pizzas, one with pepperoni and mushroom and one with sausage, basil and garlic.
I'm no pizza snob, and I really liked both of the pizzas. The thing that differentiates Pequod's is that they bake their pies in cast iron pans with decades of "seasoning." They also sprinkle some cheese on the pan and it creates a "halo" of caramelization on the crust. I love it when the cheese gets grilled like this. Like when the cheese oozes out of your grilled cheese and bakes on the pan? So good. This is what the crust is like on these pizzas!
Read more about Pequod's Pizza on Serious Eats. These guys know pizza!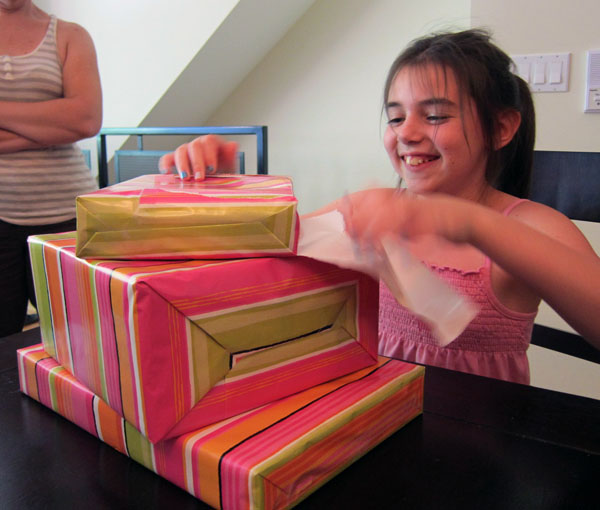 We hadn't seen Jessica since before her birthday so we gave her a birthday gift too. A summer outfit, some Nintendo DS accessories and Just Dance 3 for the Wii! Jessica, you are next to come for a visit!