I travelled to Boston for work a bit more the last couple weeks (see previous photos). My projects have changed, so these are my final Boston photos.. for now!

One week I stayed at the W Hotel. This was my view. See the protestors?

I liked this hotel because it was pretty and modern and had Bliss Spa products in the bathroom. Also, the walk to work was really interesting, going through the Theater District and Chinatown.

Emperors Garden Restaurant in Chinatown.

Paramount Theater in the Theater District.

I also liked this hotel because there were many restaurants to pick from very close by. Tantric was an Indian restaurant across the street that I tried. Really good.

I noticed that every restaurant had an allergy warning on the menus. I wonder what brought this on. Even Dunkin Donuts had it.

Some road construction at night.

One thing that sucked about my stay at the W, and this was not their fault, but there was a huge power outage in the city. We didn't have power for about 7 hours.

Even though it wasn't their fault, the W Hotel sent everyone a note apologizing for the inconvenience. Also, when I checked in at the W they asked why I was there and I said work. Later on that night the guy that checked me in sent me a hand-written note with two free drink tickets for the W's lounge so I could try to "escape from work" a little bit. Pretty cool.

I saw this around the corner from my office – Textile District.

One of my Chicago coworkers who travels to Boston often clued me into the food trucks that park a few blocks from the office every single day.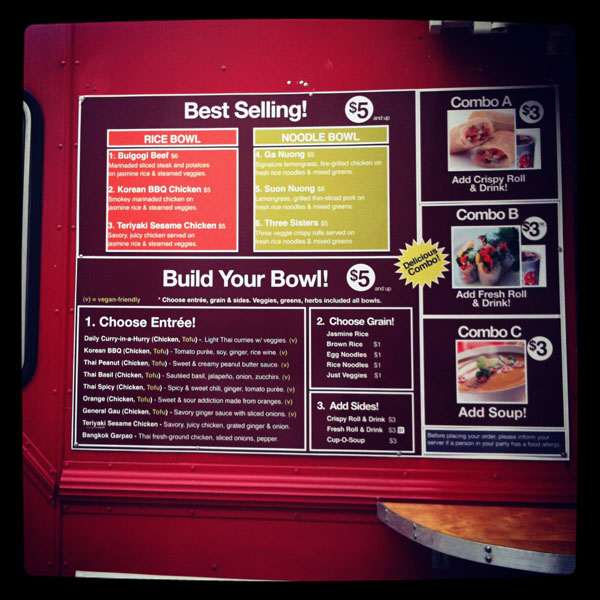 I really enjoyed the Momogoose food truck, which served Southeast Asian food. This is their menu.

Combo A with bulgogi. It looked more like a beef stew, but was very good. I got this a second time the following week and the meat was more like grilled strips like you'd expect from bulgogi.

I love this stuff. Sebastian's Cafe is in my office building and sold it, so I had a lot of it.

Steinway – I liked this sign

It was in the 70s one day so I walked through Boston Common on the way back to the hotel. Gorgeous.

Another time I stayed at the Westin on the Waterfront. I've stayed at the waterfront before so I was a little bit familiar with the area.

The walk to work from the waterfront is a little bit of a hike, but I liked the exercise. On the walk home I'd take a longer way and walk along the harborwalk.

The harborwalk goes by many fishing piers, seafood restaurants, and places to buy fresh seafood.

Barking Crab looked like a popular restaurant, but I didn't try it. I had something else in mind.

A T station on the harborwalk.

You could take the water taxi from the harborfront to the airport or Faneuil Hall.

I had dinner at Yankee Lobster, a place I'd tried a few years earlier and liked. I also sent Dallas here when he was staying at the waterfront a few months ago.

One other night I walked down the Boston Fish Pier to go to a place called No Name. I still remembered the delicious broiled scallops I had there a few years ago and wanted to get more!

Back by work, this was a T stop by South Station. Very modern. It contrasted a lot to the classic architecture of the train station (behind).

A lunch spot I like – Hot Tomatoes.

One of my coworkers who also was traveling from Chicago has a friend in Boston who told him Charcarero has the best sandwich he ever ate in his life. I don't know if I'd go that far, but it was a really great sandwich!

My office is on Summer Street. I guess this area used to be the center of wool trade.