As I mentioned before, last weekend my brother, my dad and I did UPAF's Ride for the Arts. One of the largest one-day recreational bike rides in the United States, UPAF's Ride for the Arts has raised more than $7 million for the United Performing Arts Fund (UPAF), which helps fund 34 performing arts groups throughout Southeast Wisconsin. So a big "thanks!" to everyone who sponsored us. We were able to raise over $100. And if you meant to sponsor us, but didn't, you still can here.

UPAF Ride for the Arts start line.

Dad & Richard at the start.

Richard and Rachelle at the start.
We selected to do the 25-mile ride. There are also 5, 12, 50 and 75-mile bike routes. I think if it were up to my dad he'd go for the 75! But no way for Richard and I! Since the ride starts early Sunday morning, I drove down on Saturday night. Well, I attempted to. My car broke down on the way there, but that's another story! On Saturday it was in the 80s or 90s and I was kind of scared for Sunday, but it really cooled down. Dad was complaining he was cold, even!
We got up early on Sunday, after only about 6 hours of sleep (See the part above about my car breaking down. Long story!) and just ate something very light. The grounds of Summerfest were the starting point, so we loaded the bikes onto my brother's bike carrier thing-a-ma-jigy for the car and headed up. On the way there we stopped for air for the bike tires. I didn't realize that my tires were very under inflated. When we got there, I took my bike off the rack and it tried it out. It felt so nice riding with inflated tires! haha.
The photos above are of us at the start line. There was a bit of confusion at the start of the race. Where to line up, which way to face. It ended up starting 20 minutes late. We didn't know why at the time, but afterwards I read this article and found out that they were doing last-minute patches on the bridge route (see below). One thing that I did not mind is that in the confusion we totally missed all of the speeches by the big wigs welcoming us and what not. Let's just go! Although last year I did like it when they announced we'd all be getting free hotdogs!

Hoan Bridge

Hoan Bridge

Hoan Bridge

Dad on the Hoan Bridge

Hoan Bridge

Don't know why my brother is doing this.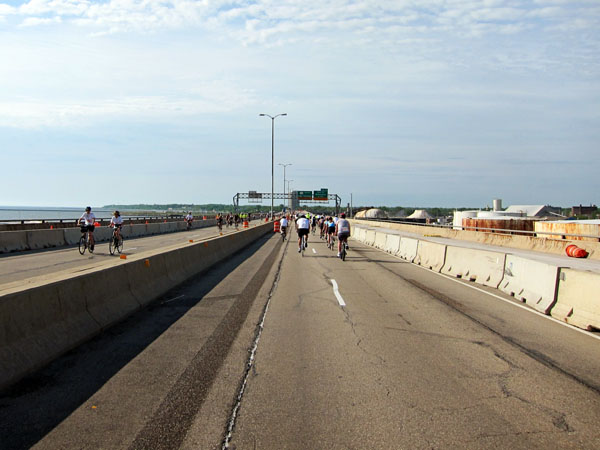 Hoan Bridge

Hoan Bridge
This year there were two 25-mile routes. One went over the Hoan Bridge and one that stayed at ground level and went through the Historic Third Ward. Since we went through the Third Ward last year, we opted for the Hoan Bridge this year. Plus, who knows if they'll ever cut off traffic and offer that option again! This was the first legal opportunity to ride on the bridge in nearly 30 years. This was our route.

First Oasis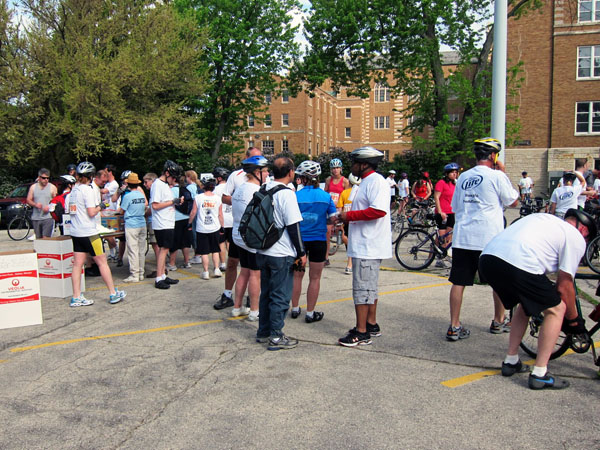 Getting snacks.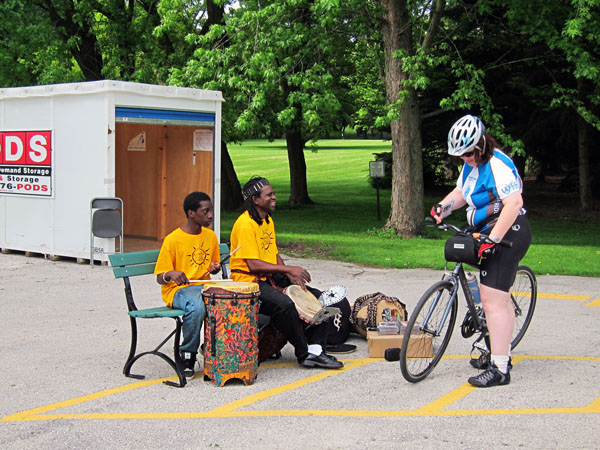 Drummers
The first rest stop, ahem "oasis," is at mile 5 at a church in St. Francis. Last year there was play acting for entertainment. This year was drumming. I liked the drumming better. We got refueled on fruit and granola and water and were back on the road.

Riding on from the first oasis.

Oasis Two

Dad at the second oasis.

Dad and Richard at the second oasis.

Big bike at the second oasis.
The next oasis didn't come until the halfway point, down in Grant Park. There was a guy there with a big, old fashioned bike. I called BS on him riding it all the way through the ride. I thought he was just showing it off at the oasis… but just after we finished the ride we saw him pull in past the finish line!

They stole our matching costume idea!

Richard and my dad.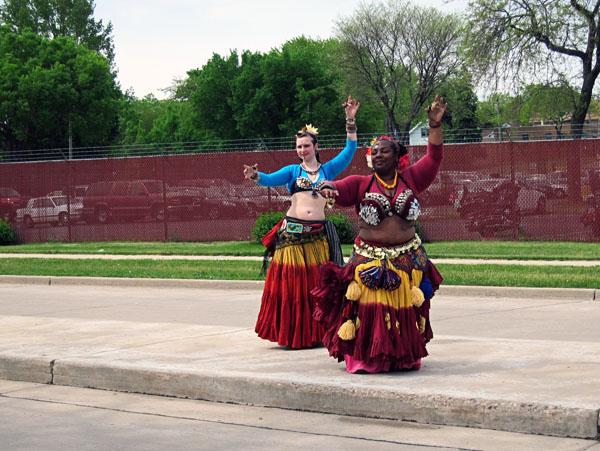 Belly dancers at the last oasis.
Riding back up towards Milwaukee.. the last oasis was at about mile 20 or 21 and was at the Coast Guard post. There were belly dancers for entertainment here.

At the finish line!
At the finish line. I was feeling pretty good. I was only winded a couple times on the ride and only for a few minutes. I was tired, but I felt a lot better than I did last year.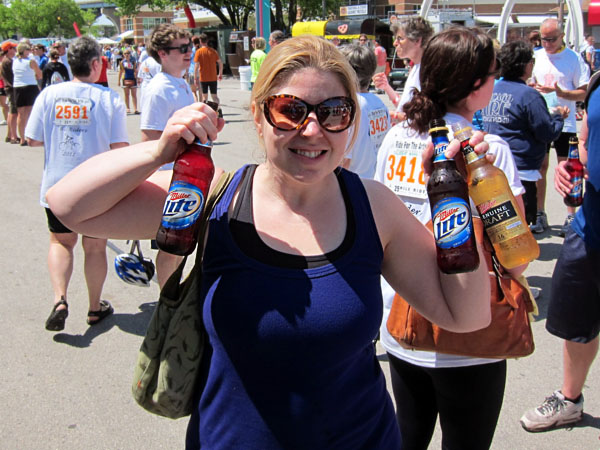 Beeeeeer

Free hotdogs and "cheese"
So, at the Summerfest grounds, on to the reward! We got ice-cold Miller beer. Always tastes like the best beer you ever had. There were also a ton of free Sun Chips, Kangaroo pita chips, Rold Gold pretzels, and granola bars. Like last year, we were also promised free hotdogs courtesy of Gahn Meat. We got our pathetic hot dogs and they were ok. Not the best, but hit the spot after the ride. This year we were also promised free cheese. Well, it turned out to be a pack of pretzel or cracker sticks with some processed cheese dip. Kind of a bummer. And ironic, since Sargento is always now advertising how they make such exceptional cheeses, not processed, with high-quality ingredients.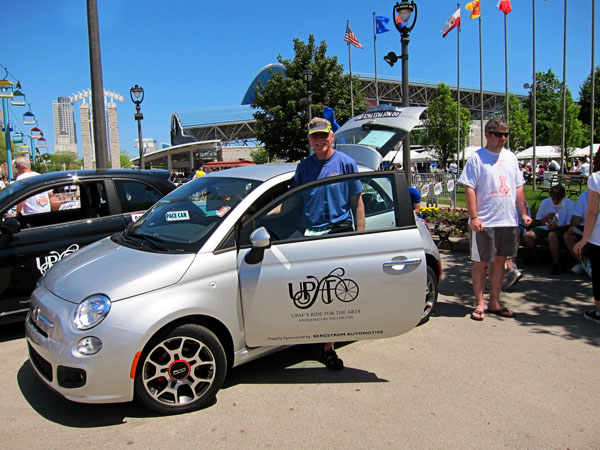 Fiat pace cars

These guys were so happy it was creepy.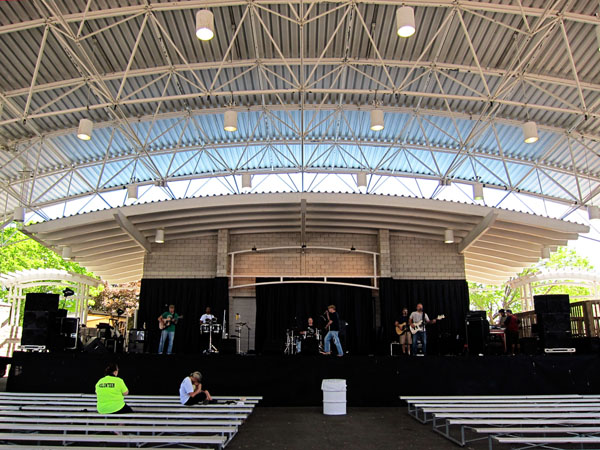 The Love Monkeys. My brother said they're a pretty popular local cover band.

More jugglers
At the Summerfest grounds there were a lot of entertainers. We walked around and checked out all of the displays, jugglers, musicians.

Summerfest Grounds
Until next year…. !

Jessica at Culver's
Oh, one more photo. Later on we met up with Amanda, Jess, Steph and my mom and went to Culver's. Compare this photo of Jess at Culver's with my last photo of Jess at Culver's. Crazy!