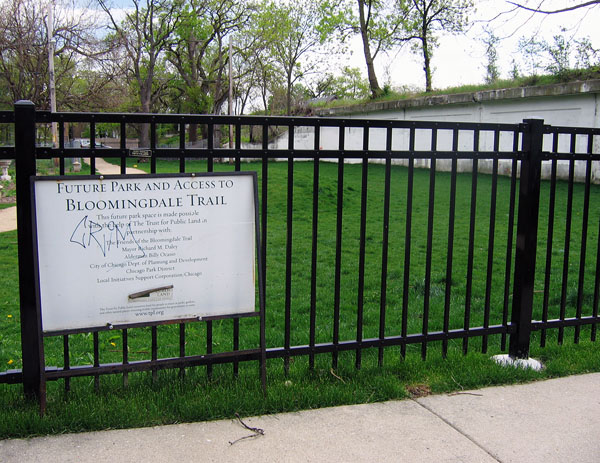 Albany Whipple Park, Future Park & Access to The Bloomingdale Trail, Logan Square, Chicago
Here's more on the Bloomingdale Trail in Chicago. I mentioned it when we were on the new High Line park in New York.
On a bike ride a few months ago, I noticed this park between Whipple Street and Albany Street at Bloomingdale Avenue. A sign said that this will be the future park and access to the Bloomingdale Trail. I'd heard only a little bit about this so when I got home I did more research.
I found this site, Friends of the Bloomingdale Trail, that explains a lot. There are 3 miles of elevated train track that are abandoned and in the process of being transformed into a park. This organization already has built Albany Whipple Park, a small park between Albany and Whipple Streets that has a trail leading from one street to the other through it. Eventually there will be an entrance to the Bloomingdale Trail here when it's ready. Looking at reviews on Yelp it seems like the tracks still are full of glass and debris and not ready to be opened to the public yet. Doesn't mean that people aren't up there a lot now, though!
I think when I have a few hours to kill I need to find the entrance and do some exploring. It totally reminds me of the High Line, though.