After checking out Iao Valley, we drove down the road and went to Kepaniwai Park's Heritage Gardens. If you have a good memory you remember in my last post that the Battle of Kepaniawai was a bloody mess and there were so many dead bodies that the Iao Stream got all blocked up. Kepaniawai means "damming of the waters." You'd never know that this was such a violent area in the past, though. Now it's a beautiful, peaceful park that showcases Maui's diverse heritage with ethnic houses and gardens representing the Hawaiian, Portuguese, Japanese, Korean, Caucasian and Filipino cultures.
Richard Tongg designed the park in 1952. Donna, Dustin, Dallas and I spent some time just walking around the park, through the banyans, checking out all the different statues and houses.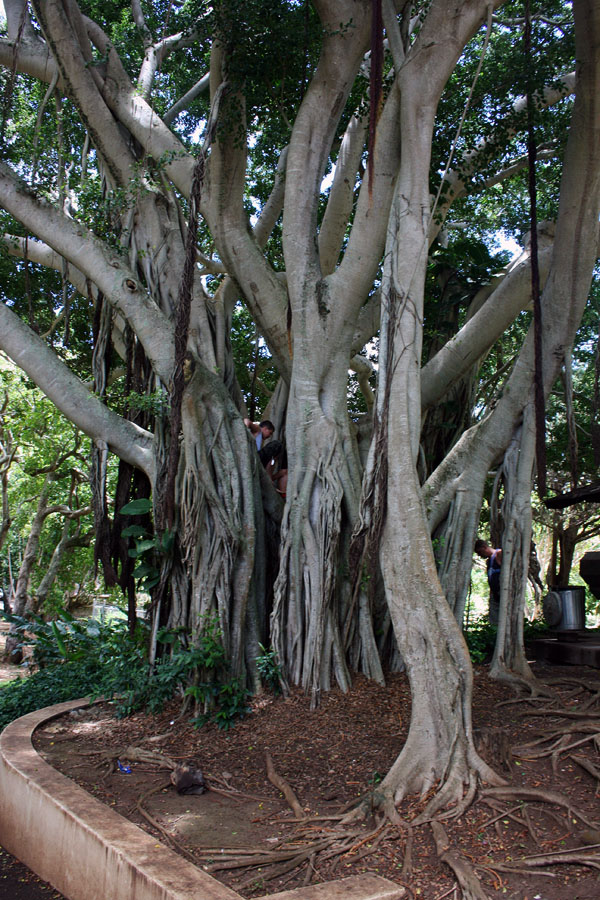 At some point we started standing in front of houses that represented our ethnicities. For example, here are Donna, Dustin and Dallas all in front of a thatched-roof Hawaiian hale (meeting house) because they are each part Hawaiian.
Here's a Caucasian New England "Salt Box" house.
And here is me in front of the Caucasian New England "Salt Box" house.
Dallas is half Korean.
I guess these Lions were part of the Korean garden. Donna tried to set it up so we both stood by the lions and faced our heads like they were, but Dallas refused to cooperate.
Dallas, Donna and Dustin (missing!) are all part Japanese.
No one posed by the Chinese house, but Dustin should have.
Found this guy in the bamboo forest behind the Chinese house.
And then here's a Filipino house.
None of us are Filipino.
And finally, a Portuguese villa.
Donna might be a little Portuguese. I can't remember. And she didn't do her posing, so maybe not.