On our last day in Oahu our big plans were to attend the Kamehameha Schools Luau, but first we went and visited Dallas's grandma one more time. Dallas and I were up really late the night before and Grandma is getting up there in age so it was really just like Dallas, Grandma and I sitting on the sofas trying not to fall asleep while Kala watched some 80s countdown show on VH1. Nevermind that Kala was born in 1992 and didn't know any of the songs. Grandma would keep waking up and making comments like how she didn't like Flock of Seagulls hairdos and stuff like that. Kind of funny.
Later in the afternoon we drove up to the Kamehameha Schools campus for the all-class luau. All of the classes from the 1930s or 1940s on were in attendance.. well, every 5 years.. so like 5 year reunion, 10 year reunion, etc. Each year the class celebrating their 29th year reunion puts on the luau to honor the class celebrating their 30th year reunion. And all of the kids that are coming back as seniors have traditionally been servers at the luau. This year, though, they couldn't serve because alcohol was being served at the luau so the parents of the seniors had to do it. Dallas's Uncle Bob and Aunty Helen had to serve because Kala is an incoming senior.
First off, each class had to get their official photograph taking. I think some people just blew this off, so the Class of '94 photo is looking pretty sparse.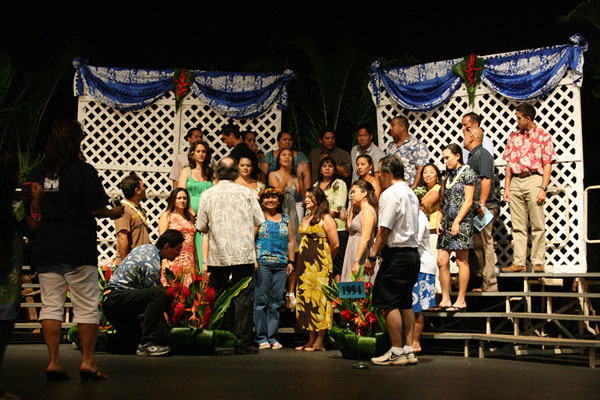 After this we hit up the beer booth and the pupu stand and then made our way to the designated Class of '94 area under the big tent where Kilo had saved us seats.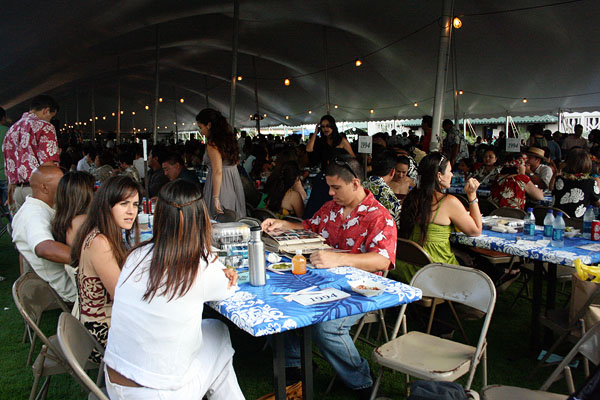 The pupus at the booth changed out every half hour so people from our table just kept going up and getting more. I had previously had many of the dishes served, but there were definitely some I had not. I was sitting by Donovan and he kept passing me all the pupus and making sure I tried everything I'd never had before. Like pickled Maui onion, a'ama crabs, limu salad, and raw Maui onions dipped in Hawaiian sea salt. And other favorites I'd had before like boiled peanuts, poke, smoked meat, edamame.
The whole time we were socializing and eating and drinking there was a big stage at the middle front of the tent and people were speaking and playing music. We couldn't really see because we were too far off to the side. I heard there were something like 1,600 guests at the luau, so you can imagine how big that tent was! We were alerted when Monte and Kilo went up to do the hula. Kekoa's band Holunape was playing (same classmate and band that played earlier in the week at Aku Bone). So I ran up to get a few photos.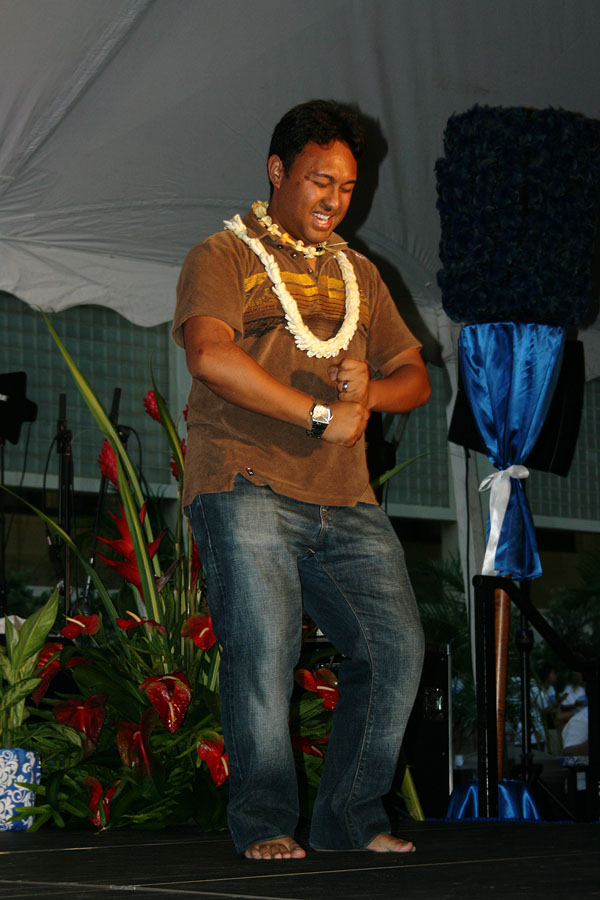 In years past I heard the luau dinner was served buffet style. This year each person got served a plate. Some people were leery about this but everyone agreed the food was really ono and the portions were generous. Here's what we had:
Clockwise, starting with rice: Rice, kalua pig, chicken long rice, sweet potato, Heineken, poke, lomi-lomi salmon, poi, squid luau, fruit punch.
And for dessert there were trays in the center of the tables with chocolate cake, haupia and kulolo.
It was great to see many of Dallas's friends again. I wasn't sure what to expect really from alumni week. I thought I'd be on my own more. I knew I'd be designated driver and do whatever for Dallas to do everything he wanted to… but I didn't expect to have so much fun. All of Dallas' classmates were really nice and welcoming me into the group. It was fun to meet a lot of people that mean so much in Dallas's life.
And I always knew that he went to Kamehameha Schools, but I never really "got" it. So.. you went to a school.. So what. But Kamehameha Schools is so rich in Hawaiian culture and tradition. Generations of Dallas's family have attended. Going to these reunion parties finally made me realize what it's all about. It's like a family. Everyone was nice to me because through Dallas, I'm ohana.